50% Less than Big Box Stores
Serving West Michigan for over 25 years!
Our home was built in the late 70's when the kitchens were made a lot smaller and it needed a facelift. We did not want to spend a large amount of money remodeling the kitchen and over improving our home so we called Kitchens by Katie. I highly recommend this company because they can do wonders for your kitchen with refacing cabinets and various other changes that one would never think of. For an affordable change to your kitchen, this is the way to go. I continue to have many complements!
Kitchens by Katie was a perfect fit for our needs. We had an area that we needed to "fit" in a kitchen. So everything was custom. Not only did the owner come to our place to take measurements and listen to our ideas, but helped us "see" what would work and then gave us a fair estimate. Their showroom really helped with making choices and being able to visualize what the finished product would be like. The cabinet installer also was professional and pleasant. We thank them for their work and still just LOVE our kitchen!!!
Kitchens by Katie did my Kitchen 24 year ago. They did the cabinets in my office 18 years ago. The work and price were excellent so in May of 2018, I hired them to redo my kitchen. Jeff was the one to do the work. He was very professional. On time every day. I  asked questions along the way to make sure things were going as I liked.  He finished in just four days. I am extremely happy. All of my friends and neighbors that I have had come see it has been very impressed with the quality.
If You Can Dream it We Can Do It!
Updating your kitchen doesn't have to be complicated.  Kitchens by Katie can help you recreate the most important space in your home.  Whether you choose to simply Reface your existing cabinets or tweak the layout a bit or decide to start over with all new custom cabinets Kitchens By Katie can provide a beautiful, quality solution in a short time.  Search through the options above and see what Kitchens By Katie can do for you!
Cost Savings
Don't pay big box store mark-ups.  Go right to the source!  Time and time again Kitchens by Katie quotes come in under big box store quotes. We have helped over 2,000 happy customers in West Michigan create the kitchen of their dreams.
Why it works
The reason is that you already own half of your kitchen and often those cabinets were built to stand the test of time. Refacing cabinets that are already in place is much less invasive.  At Kitchens by Katie we will help you to create the kitchen of your dreams using a plan specifically designed to meet your needs and will do our best to make it affordable and quick.
Customer Service
Our installers and sales people are trained to provide you with the best customer experience you can find.  We can update your kitchen in as little as 3-5 days!  Let Kitchens By Katie save you time and money when it comes to remodeling your kitchen. 
Frequently Asked Questions
What is Cabinet Refacing?
Cabinet Refacing is a quick, convenient update that can give your kitchen a newly remodeled look in a fraction of the time it takes to remodel and with minimal disruption to your home life.
Is there a cost saving to refacing?
Refacing can typically be one third to half of the price of new custom-built cabinets. When replacing cabinets there is often the need for drywall repair, plumbing alterations, changes to electric and flooring.  You will also have to replace your existing countertop.  Replacing is also much more time consuming and there are usually many individuals involved in the process: designers, contractors, electricians, plumbers, installers, etc.  
How long from start to finish does cabinet refacing take?
When you reface with Kitchens By Katie we can update your kitchen in as little as 3-5 days. This provides not only a cost saving but also reduces the amount of disruption in your home.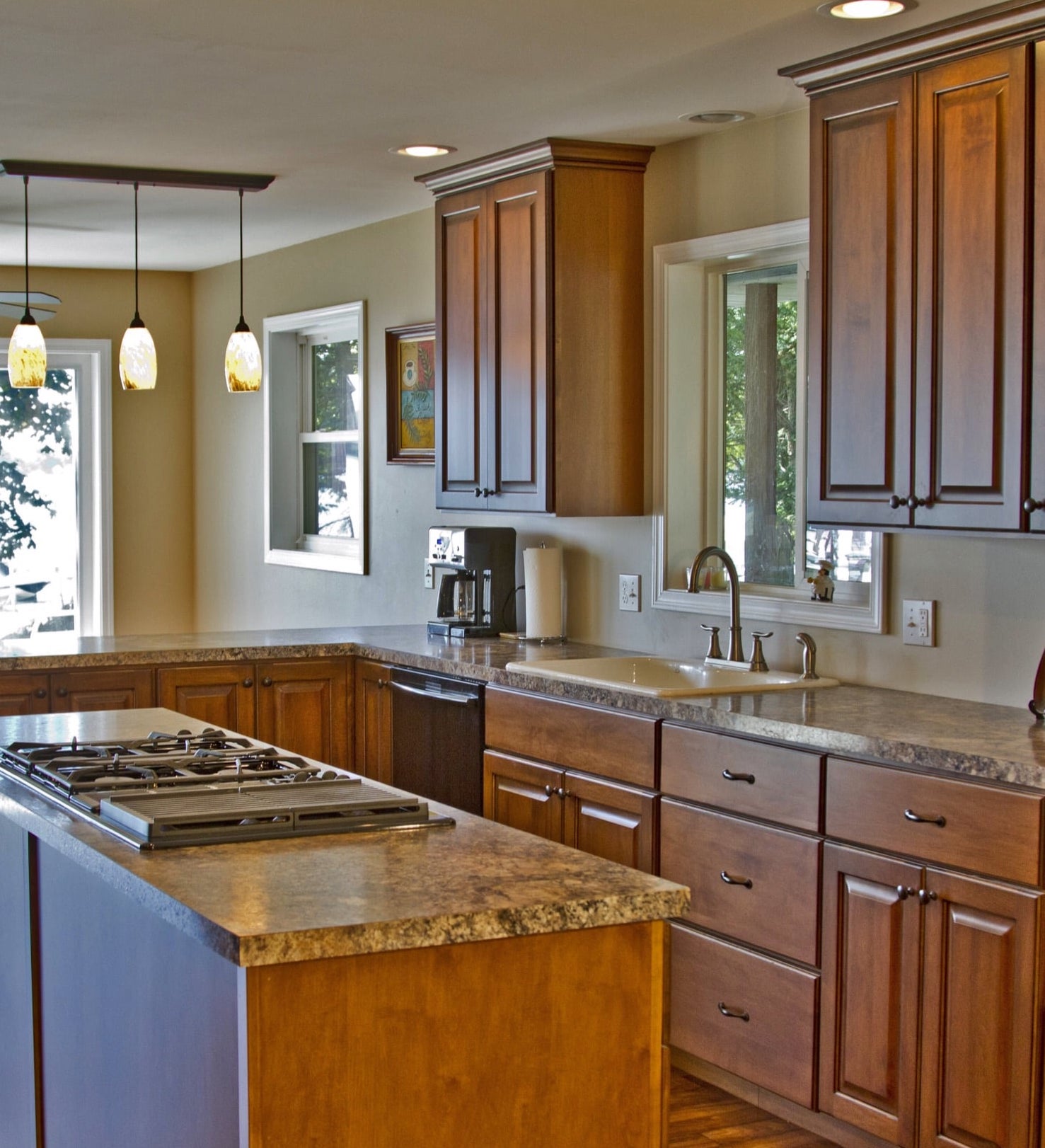 0% Financing for 20 Months
Help move your kitchen project forward with 0% financing for 20 months.  Please ask your sales consultant for details.  
Ready To Schedule?
Schedule your FREE in-home consultation.