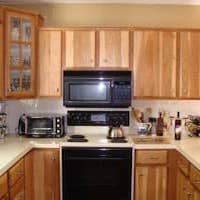 Reface
Simple reface:  If your kitchen layout is terrific and the cabinets are sound, simply refacing the boxes and replacing the doors and drawer fronts may be all it takes to create a beautiful space in your home. You can change the color and style of your door, enjoy new drawers that slide on new glides, and choose hardware for fresh shine and glamor. Even when keeping the same layout and cabinet configuration, these fresh finishes will make your kitchen look and feel new again.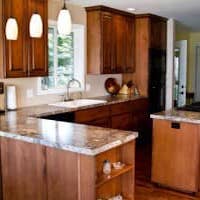 New Custom Designed Kitchen
New cabinets: If replacing all your cabinets is what you would prefer Kitchens By Katie can build you a new custom kitchen. We don't use any pressboard in the construction of our new cabinetry. Everything is custom made for your kitchen with endless possibilities using the highest standards of quality. If you can dream it we can do it!
Reface/Remodel
Reface with remodeling: Refacing is still a great option even if you want to tweak the existing layout. We can alter, remove and add cabinets to accommodate your specific needs. Ask our designers how we can customize your existing space to make it more efficient without having to tear out all your cabinets and start over.